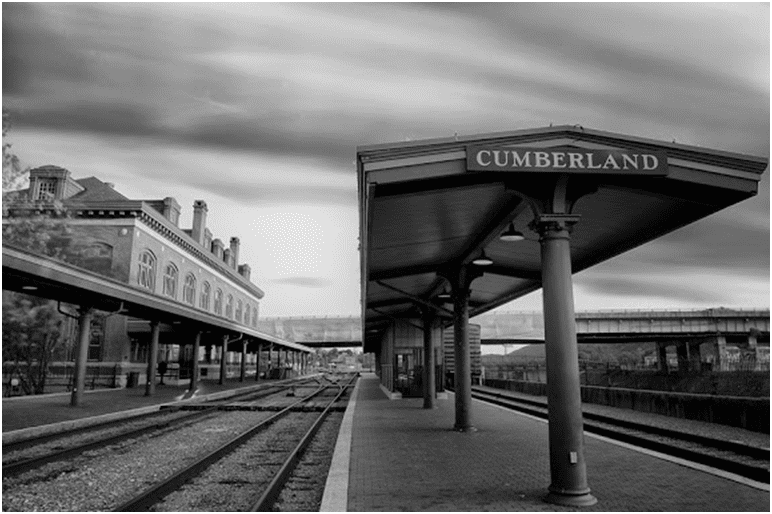 In a time when many photographers believe that hardware filters are passé, there are still three types of filters that I use as often as I did back when I was a film photographer: the solid neutral density filter, the infrared filter (used on my unconverted cameras), and the always important graduated 'split' neutral density filters.
Let's start with the Solid Neutral Density filter I'm now using. It's the new 10-Stop Mor-Slo ND filter from Singh-Ray. Extremely long exposures cannot be replicated in software, so in order to get exposures that are up to several minutes long, my 10-stop Mor-Slo is the best filter of its kind, rendering images with a slightly warm cast, easily correctable with custom white balance, or by 'cooling' the scene during RAW conversion.
Since a picture is worth a thousand words, give or take a few, here are a pair of before and after images to give you the idea. Creating a timeless mood with the 10-stop Mor-Slo is really fun when I find the right subject. In this series, the color image is composed well enough, but there's no feeling, and no story — except for my friend John's tripod leg encroaching in the bottom right corner of the frame. (It was easily cloned out.)
At the very top of this story, we see the 8-minute exposure of the scene which has now been not-so-instantly transformed into the last stop in a Twilight Zone episode! It's magic. It's done entirely in the camera.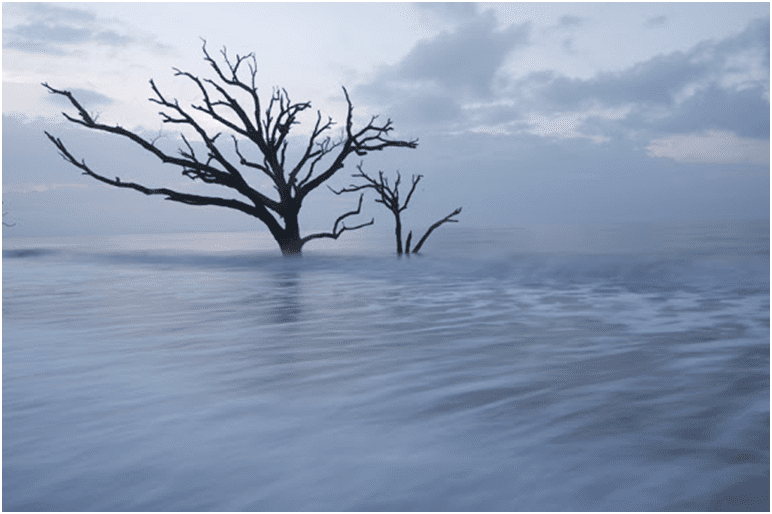 Here's a classic long exposure situation. The ocean is strongly moving in and out at the break of dawn. I could have achieved an exposure of 15 seconds with no filter, but for those familiar with extremely long exposures, there is a world of difference between 15 seconds and 4 minutes.
While holding the tripod in the advancing and receding waves, I jammed the legs down as far into the sand as I could to, hopefully, arrest any tripod movement created by the waves and shifting sand. Below we see the 4-minute exposure created with the Mor-Slo. Also, I thought the image would work better as a black and white, since I wanted the horizon and sky to merge.
An often overlooked fact is that you can use an I-Ray infrared filter to achieve some really expressive long-exposure infrared images like the one below. Because of light leakage that occurs in all 'hot mirrors' in digital DSLRs, we can use an infrared filter, just like in film days, to create true infrared images without getting our camera converted to shoot only IR images. There is an issue, however. The hot mirror on the camera's sensor works to block most IR light from reaching the sensor, but a small amount does pass through, resulting in very long exposure times. After a little trial and error, I've determined that in bright mid-day sun with the I-Ray in place, an exposure of 4 minutes @ f/8, ISO640 is a good starting point. The very cool advantage is that with such a long exposure, it gives me a mirror-smooth surface on water (such as on this small lake near Saint Michael, MD) and silky smooth streams and waterfalls.
And, as we see in the following two images, as clouds began rolling over the silos, the 4-minute infrared exposure created the surreal look of the moving clouds, compared to the sharp, original color image before the clouds rolled in.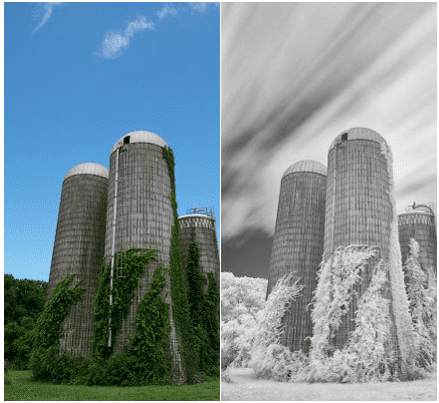 I have a full complement of Singh-Ray ND Grads and Reverse ND Grads, and I use them all. In the following image, rather than taking two images and blending, which can, at times, be more trouble than it's worth, I used a 4-stop soft-step filter. This held back the sky nicely, and I waited for the very bright sky opening to be covered by the swiftly moving clouds. Upon viewing this frame, I saw a black-and-white image in my imagination and made it so, cropping down from the top for a more tightly composed image.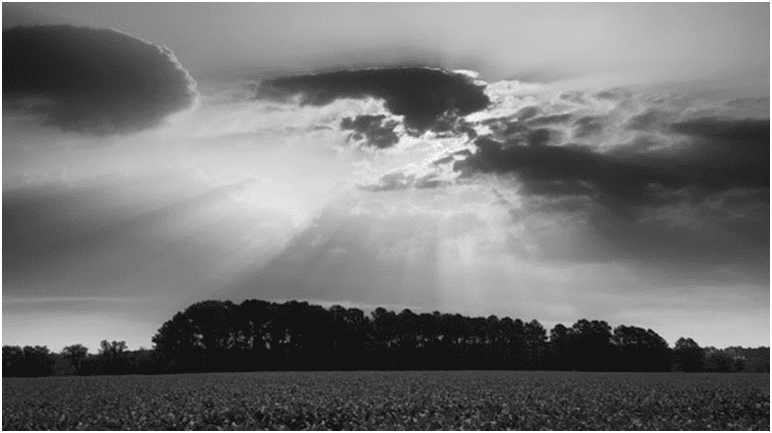 So, in the swiftly changing world of modern digital photography and software solutions, tradition still has its place. Singh-Ray filters continue to offer the creative photographer classic solutions to modern digital dilemmas.
Tony Sweet is a Nikon Legend Behind the Lens, author of 5 books and countless magazine articles, as well as 4 instructional DVDs. He and Susan Milestone offer workshops through their company, Visual Artistry.