I have had the good fortune to make a living with my camera for the past 40 years. I picked up my first camera at age 13 and have never stopped being fascinated with creating images.
During my teen years, I had absolutely no desire to be a professional photographer. I loved sports and was absorbed in the world of snow ski racing. Every year, without fail, I would round up my friends and see the latest Warren Miller ski film in San Jose, California. I would often dream that one day I would be a cinematographer and film my own ski movies, but the world of still photography at the time was nothing more than a hobby, albeit a serious one, of photographing (or at least trying to imitate) the wonderful B&W images that Ansel Adams created.
Then the college years rolled around and I enrolled in Journalism School at San Jose State University. My first semester, I took a class titled Photojournalism 1A and I was hooked! I quickly found that my aptitude was in capturing sports and that began a long career (25 years) of shooting pro sports exclusively (NBA, NHL, NFL, and MLB). All through those years, landscape photography was still in my blood, but it got relegated to the back burner. I would shoot a landscape perhaps only a couple times per month as I was busy raising a family, traveling and shooting sports 250-plus days per year.
Back in 2001, my family and I vacationed in Mammoth Lakes, California. Galen Rowell had just reconverted an old bank building in nearby Bishop into the Mountain Light Gallery. I spent the better part of four hours transfixed by his images. I came away from that experience vowing to re-dedicate myself to color landscape photography. I also purchased my first set of Singh-Ray filters: 2-,3-, and 5-stop hard and soft grads along with neutral circular polarizers for each of my lenses.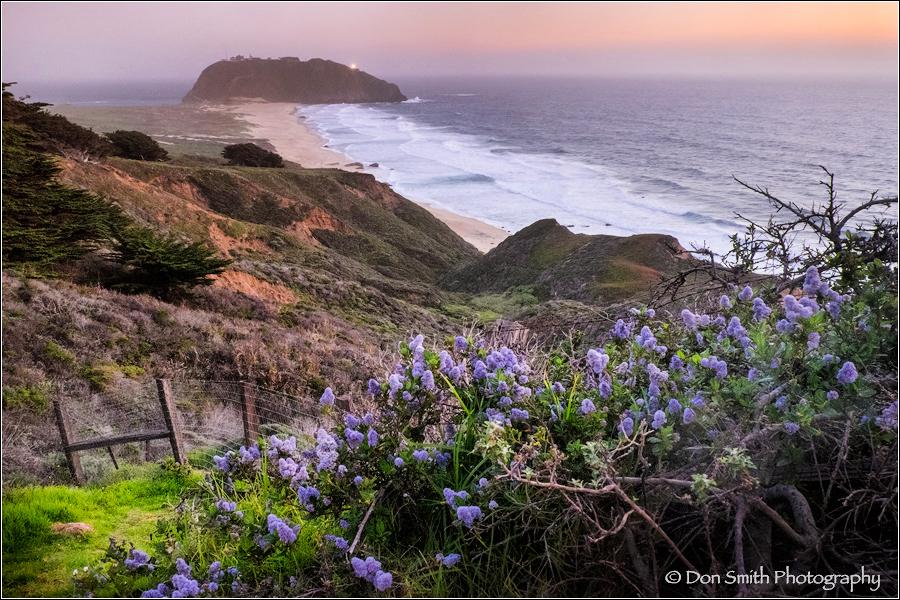 Wild Lilac: Fuji XT-1, 18-55mm, f/16, 1 second, ISO 200, Singh-Ray Thin LB Polarizer, Pt. Sur Light Station, Big Sur Coast, California
It was easy to see that part of Galen's success was in controlling the contrast ratio of the light on the subject he was photographing.
Over the years, my landscape side of the business steadily grew to the point that it now requires 85% of my attention and my sports the other 15%. I now teach workshops and shoot landscape stock photography for Getty Images and I will be starting my 24th season as co-team photographer for the NHL's San Jose Sharks.
If experience has taught me anything, it is that there are so many false assumptions about the life of a pro photographer – regardless of the genre. I can only speak to what I shoot professionally (sports and landscapes) but thought it was time that I dispel 10 myths that I hear on a regular basis. So, without further ado, let's get started.
MYTH 1: You are lucky!
No doubt it appears that I am living a dream life but there is so much that people don't see if one is to be successful in this business. First off, luck has nothing to do with success. Hard work and a driving passion to succeed have everything to do with succeeding. I work very hard every day at what I do – so do most successful pros.
I'm usually in my office by 5:30 am and the first three hours of my day are spent on marketing my business: answering emails, writing blogs, posting Facebook images, etc. Then, I usually edit for another 4-hour block. I try to get a daily 90-minute workout in, then more correspondence or working on other business aspects: returning phone calls, planning trips, planning workshops, etc.
My typical day (when I'm not shooting) is usually a minimum of 10 hours of office work – oftentimes more. If I do work in a shoot, my day can extend another 8 hours. Workshops are typically 14-18 hour days depending on the time of year. I currently teach 15 workshops per year along with a bunch of private lessons. No doubt, I am truly blessed, but not without putting in the time it takes to succeed.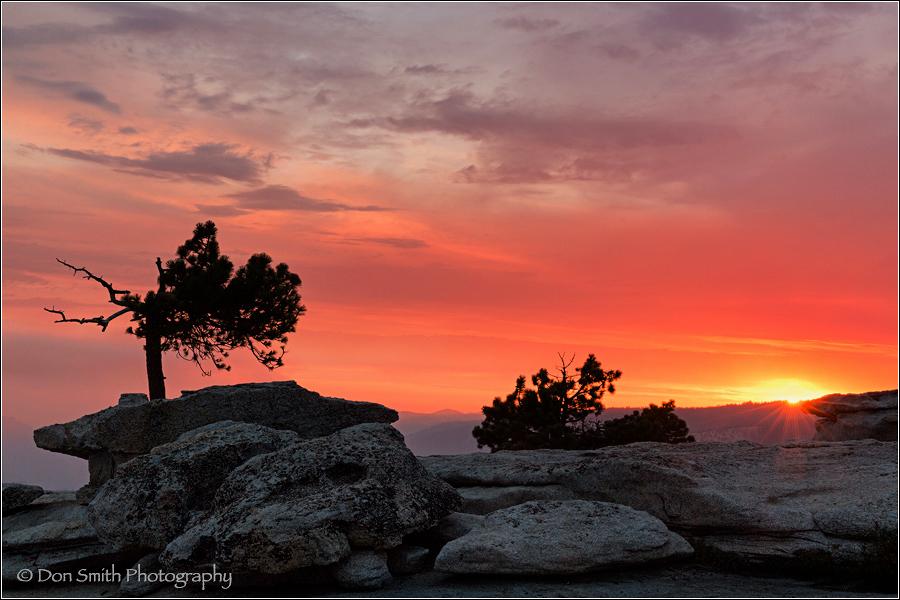 Bent Jeffrey: Canon 5DMKIII, 24-700mmL II, f/11, 1/8th, ISO 100, Singh-Ray Thin LB Polarizer, Singh-Ray 2-stop soft edge GND, Sentinel Dome, Yosemite National Park, California
MYTH 2: You have a gift – you see like an artist.
Artistic vision, for the most part, is not something you are born with; it must be studied, practiced and re-practiced. In other words, it is a learned art. Granted, some are more gifted in this area than others. My first official photography class was my freshman year in college. I barely squeaked by with a C- and the instructor told me to never consider being a pro – I'd go broke within the first year!
That harsh statement motivated me. This is a craft with a huge learning curve. There are no shortcuts. It is study, apply, analyze and re-apply. You are the only one who can push yourself. Editors are cruel by-and-large. Once you are a professional, don't expect anyone to tell you how fantastic your images are. Editors expect top-notch work out of a pro. You better have a thick skin!
My advice is to learn your camera backwards and forwards until you can know it by heart, then learn Photoshop (we are the lab nowadays), but most importantly learn vision. Become a student of light, design and art. Study composition and trust your inner sense of balance. Push the envelope on every shoot.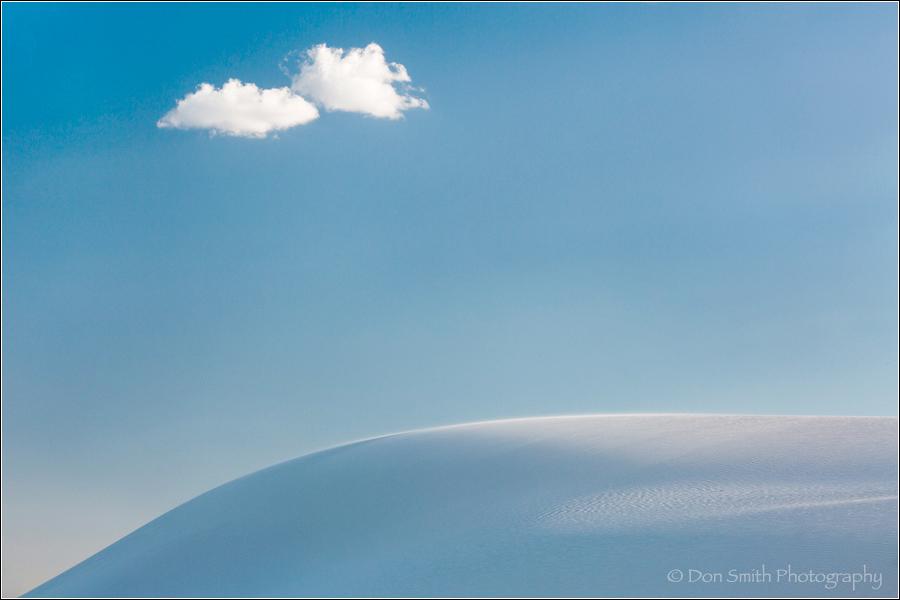 Clouds: Canon 5DMKIII, 70-200mmL II, f/16, 1/15th sec, ISO 100, Singh-Ray Thin LB Warming Polarizer, White Sands National Monument, New Mexico
When starting out, try to shoot every day. Push yourself to get up when it is still dark and chase the light. Be the last one in at the end of the day. Don't be satisfied recreating what someone else has done. Develop your own unique vision.
MYTH 3: I make money with my camera – doesn't that make me a pro?
This may sound harsh, but the world is littered with part-time weekend warriors. If you truly want to call yourself a professional photographer, demonstrate that you can support a family for a minimum of 5 years solely with your camera and art. I'm not trying to be cruel here; I'm just stating reality.
Being a good photographer is only one side of the equation. Knowing how to be a good businessperson is the other. You will wear many hats if you want to be successful, learn each side of the business and excel.
Competition is stiff and you must find a way to make yourself better. For me, it's being consistent and working hard. Build your business step-by-step. Have a plan. Build relationships the same way. If you jump too soon, your name and reputation can become easily tarnished.
MYTH 4: If I purchase all the best equipment that will make my images as good as yours.
Equipment is important, but vision is more important. Vision is a life-long study of light, design, perspective, art and composition. Vision must be developed over the years.
It is not so much learning what works in a successful image, as it is learning what doesn't work. Learn to eliminate and distill the image down to what is important. Don't be afraid to fail – because you will. But you must learn from your failures.
When reviewing a shoot, don't be so quick to hit the Delete button. Ask yourself why you are deleting an image – why it did not work? Those become huge learning moments. A good photographer can create a great image with a smart phone. It's more about learning to see than having the latest piece of gear.
I do however feel it is important to purchase the best lenses and filters you can afford. All of my lenses are outfitted with Singh-Ray polarizers and I only use Singh-Ray grads.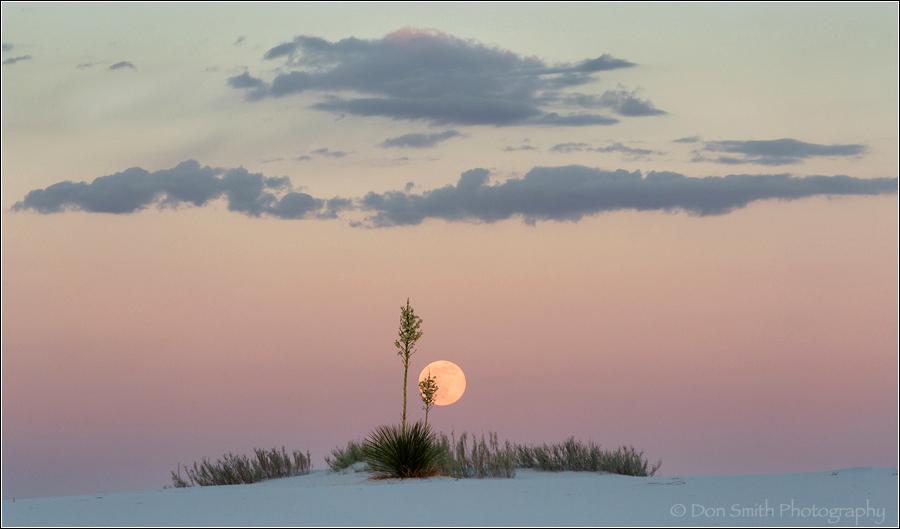 Moonrise Behind Yucca: Canon 5DMKIII, 70-200mmL II, f/11, 1/15th, ISO 100, Singh-Ray Thin LB Warming Polarizer, White Sands National Monument, New Mexico
MYTH 5: You get your equipment for free or at a reduced price.
I pay the same price as all of you. Manufacturers don't pass out free gear (wish they did). I've never sold a piece of equipment online, I wouldn't even know how to go about selling something on e-Bay.
Bottom line, I don't have the time! I am affiliated with a few software companies. This is a match made in heaven as I use their software on every image I process. In return, I help beta-test, conduct webinars, write for their blog and teach their products at my workshops. I will not endorse a product that I don't personally use myself – and that includes Singh-Ray filters.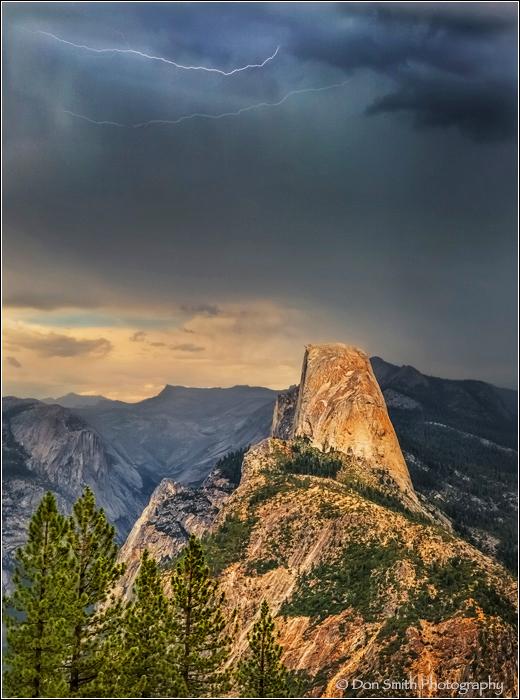 Lightning and Half Dome: canon 5DMKIII, 24-70mmL II @ f/22, 1/8th, ISO 50, Lightning Trigger IV, Singh-Ray Thin LB Polarizer, Washburn Point, Yosemite National Park, California
MYTH 6: You get to travel to all the iconic locations to make images.
True, I travel and conduct workshops at locations that are on most photographers' bucket lists, but those locations have been photographed millions of times. I do challenge myself to find something a bit different or out of the ordinary, but unless there is some dramatic weather, my images will more-than-likely resemble some other photographer's image of that location.
My greatest pleasure is in finding something new and unique (hard to do in this day-and-age with the internet listing every location imaginable by GPS). My image of this country lane lined by Eucalyptus trees is a good case-in-point. I have to give my wife Beri all the credit for spotting this scene.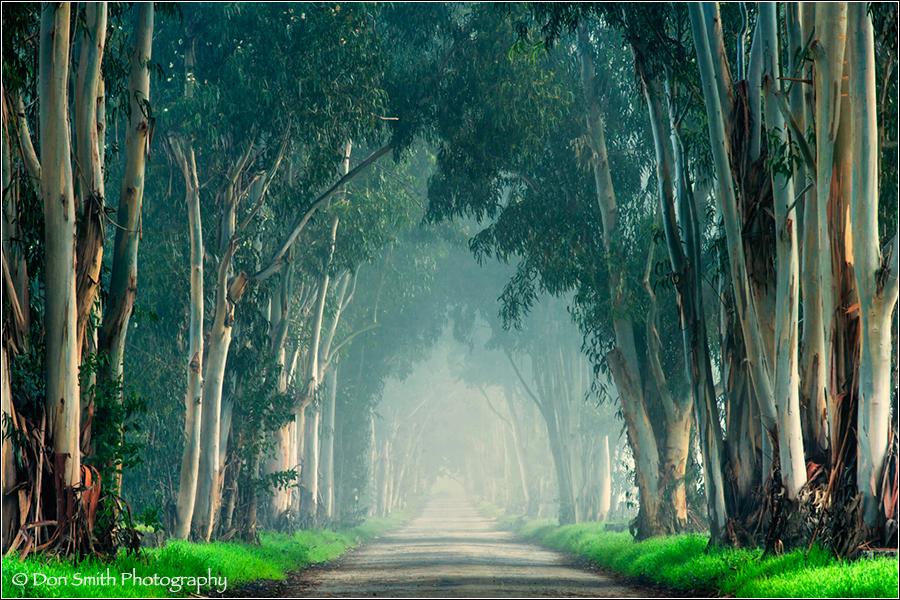 Eucalyptus Trees: Canon 1DsMKII, 24-70mmL, f/13, 1/4th, ISO 200, Singh-Ray Neutral Circular Polarizer, San Benito County, California
This is actually a location about five miles from my home. We first traveled down this road to cut a Christmas tree. She said it would make a great image and she was right. I simply kept returning until I got the atmosphere right.
To date, this is my all-time best stock selling image via Getty Images. It has been featured on the cover of 9 books (including my own – Refined Vision: 50 Lessons Designed to Improve Your Digital Landscape Photography).
It was also featured on the cover of the coffee-table book: The Life and Love of Trees, which to my surprise was featured on the Oprah Winfrey show as her book-of-the-month choice!
MYTH 7: Every trip you make must mean you are planning a new workshop.
Granted, there are times I plan trips with the specific goal of developing a workshop and oftentimes it does not work out. Yet many times I take trips for my own enjoyment and to see and create images of places I have never been before.
I recently spent two weeks this past June in New Mexico. A big part of my trip was to photograph White Sands National Monument.
Days are quite long on these trips as I spend the middle of the day scouting and I am on location 45 minutes prior to sunrise and I won't leave until 30-45 minutes after sunset. This trip was not intended to be a workshop scouting trip, but with all the nice spots I found, it may soon become one. I am working through the permit process as I write this blog.
It is also important to separate your work from your vacation. I had the hardest time doing that over the years and I never really felt rested even though I travel all the time. I recently concluded five weeks of travel with a relaxing vacation at South Lake Tahoe. I did shoot, but it was not the priority.
A photo trip, on the other hand, means long hours of flying, driving, scouting waiting for the light and driving some more. Sleep comes in small increments (4-5 hours at night and possibly a nap if you are lucky).
My wife Beri has taught me how to separate the two and I'm a better photographer/husband/father because of it. It's the whole "balance in life" thing that we photographers tend to ignore. When your passion is your job, you must pay attention even more or you will never rest.
MYTH 8: Magazines must pay you lots of money for your pictures.
Magazines are dying on the vine (so too are books and newspapers). As you are all aware, the publishing industry (unfortunately) is dying and to survive, magazines, books, newspapers, etc., must put their content online.
I have had many images published over the years and there is an old saying in our business amongst us pros: Published images (editorial) with our name included are good for the ego but not the bank account. The real money still to this day is in advertising.
I'm fortunate that over 75% of my work shown by Getty Images is to potential advertising clients. Your name in never included except for the check that is sent – and yes – those are good paydays! Some of the highest paid pros are names you have never heard.
MYTH 9: Pros Have Secrets They Only Share With Other Pros.
I have to blame the magazine industry with perpetuating this fallacy. How many times have you seen the headlines: We Unlock the Pros' Secrets! Learn the Pros' Secrets for Better Images!
Well, I'm here to tell you that there are no secrets. There is no secret society that we pros live in. Where we may have the advantage is that we work hard at our craft on a daily basis (you have school, work and families to raise). This is our work.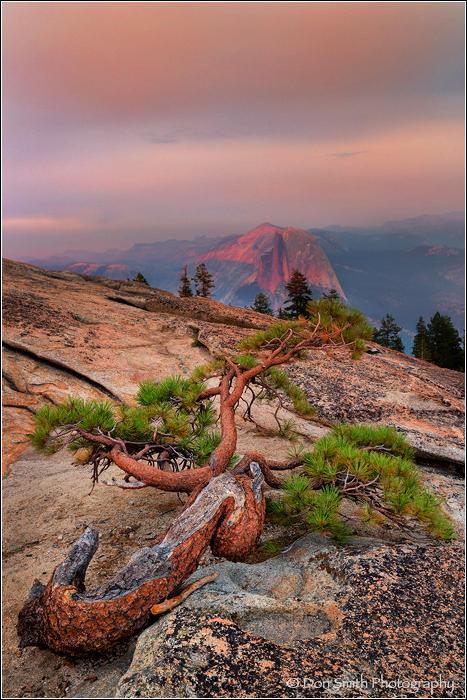 Jeffrey Pine and Half Dome: Canon 5DMKIII, 16-25mmL II, f/16, ½ sec., ISO 100, Singh-Ray Thin LB Polarizer, Singh-Ray 2-stop hard edge GND (angled along line of dome), Sentinel Dome, Yosemite National Park, California
Aspects of using the camera, vision, planning and post-processing may come a bit easier to us because we do it every day, but I for one do not keep secrets. If you read my blogs and/or follow my posts on Facebook or other social media sites, then you will know this is true. I share knowledge because that is my way of saying thank you to all mentors.
Of course I can't give it all away. If I did, why would anyone want to take a workshop? Other pros have told me that I give away too much. Who knows if that is true? My workshops are well attended so in a sense, maybe someone reads what I have written and thinks, "Hey, I'd like to learn more from this guy!"
MYTH 10: There Are No Good Locations To Shoot Where I Live.
I believe just the opposite is true. If you have truly developed your vision, you will spot images everywhere!
Don't always think grand scene. Get a bit more like the late Eliot Porter and learn to see your world as more intimate. Macro also offers many possibilities when the light is not cooperating. The key is to keep an open mind.
More times than not, the images I have preconceived in my mind don't come to fruition. Oftentimes it is something completely different. Don't walk away from a location if your previsualized scene does not appear. Challenge yourself to find something different.
Keep an open mind and think creatively. I usually chase light not subjects.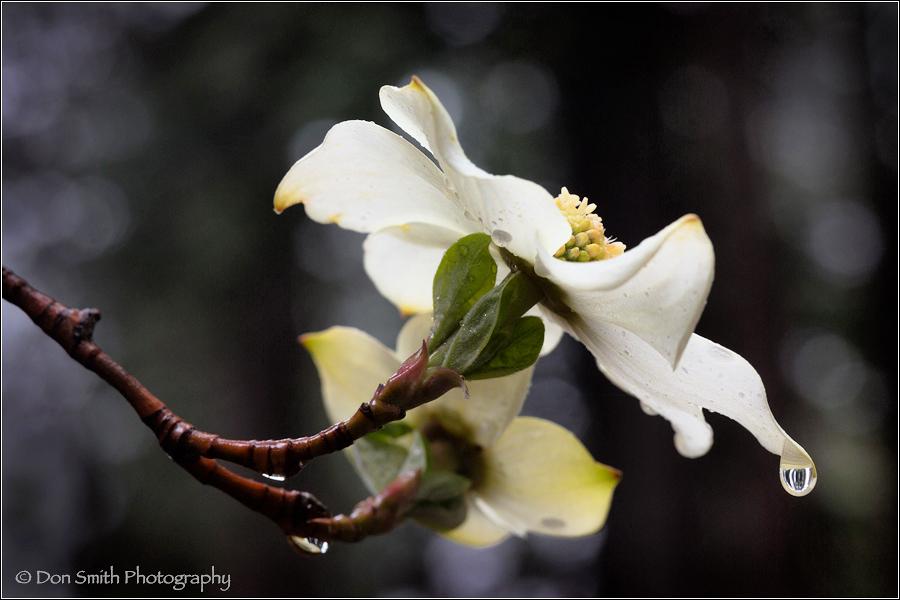 Dogwood: Canon 5DMKIII, 70-200mmL II, Kenko 36mm extension tube, f/13, 1/15th sec., ISO 800, Singh-Ray LB Warming Polarizer, Yosemite National Park, California
Challenge yourself to come away with something new and fresh from each location shoot. Never say: "there is nothing here to shoot." That immediately sets you up for failure and closes off your mind. Stay positive, even if you are struggling to find images.
Struggle is good – it is what will make you dig deeper for images. Instead, say to yourself: "there is an image here and I will find it and it will be uniquely mine." That sets your mind into a positive state and allows for the creative energy to flow. It's also what makes landscape photography fun!
So you still want to be a professional photographer? Well go for it. No degree or test is required for admission. Just a willingness to work hard, stay passionate and be an informed businessperson.
The road is lined with wannabees who jumped in with eyes half closed. Know what you are in for and dedicate yourself like you would to any other profession.
Good luck and hopefully one day I'll be reading your blog!